The Centre d'Expertise de la Performance (CEP) has been created in 1994 on an idea from Gilles Cometti, chairman at the Sports Sciences University of Dijon, together with Philippe Bouchet and Michel Pousson.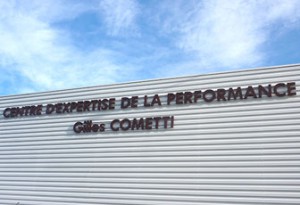 In order to fit with elite sports requirements, the CEP developed a novel idea of physical conditioning focused of the development of the neuromuscular function. The athletes work is therefore primarily based on strength development (qualitative aspect) and afterwards on the development of endurance capacity (quantitative aspect).
These qualitative and quantitative components correspond to most sports requirements: to develop physical abilities allowing one to perform determinant actions and being able to reproduce these actions several times.
Gilles Cometti, who is at the origin of this conception, is gone on July 31st, 2007. The staff is still working following his ideas, trying to continue on his way.
Thus, the CEP's work is going from the complete evaluation of physical capacities using high technology devices (Biodex, ergopower…) to the individualized planning of training in accordance with the characteristics of each sport.
The Centre d'Expertise de la Performance also aims to develop national (French Rugby federation, French Volley-ball federation…) and international collaboration (University of Milan…).