Every year, the CEP organises training courses to deliver a Physical conditioning University degree as well as several meetings.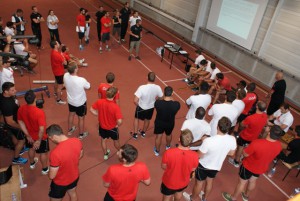 The Physical conditioning University degree provides students with the knowledge and skills to be able to conduct physical training in a sports structure.
The training can answer most of your questions for the physical preparation of your athletes (all levels , all sports).
Since 2013, DU has a new formula including some new themes , an additional seminar , TD , continuous monitoring and more exchanges with the teaching staff.
Among the people trained by the CEP, several are know physical conditioning specialist in professional teams (soccer, volley-ball, rugby…).
Note that the CEP also offers customized training for clubs , leagues , federations, physiotherapists' offices.
Books and videos related to physical conditioning are frequently published for coaches, physical conditioning specialist, students…